Grow & Go with us, giving back through life changing experiences

Grow & Go with us, giving back through life changing experiences
Effective October 15th, 2023, MCP is closing its doors to new students. We take immense pride in the journey we've shared with our members, witnessing them flourish into valuable contributors to society. But this isn't where our story ends; it's where a new chapter begins. Our dedication to excellence extends indefinitely to our cherished alumni. Starting in January 2024, all MCP alumni can seize the opportunity to book career coaching sessions with certified International Coaching Federation (ICF) Coaches. This includes comprehensive guidance in career and life coaching, along with exclusive access to annual Harmony Hives events, expert resume and cover letter crafting, interview preparation, and LinkedIn profile enhancement training. What's more, this exceptional package comes at astounding, pre-negotiated rates through our valued partners. As a parting gift, we're bidding adieu with a 3-day weekend retreat in Jamaica in 2024. Stay tuned for forthcoming details; it's the perfect farewell for a new beginning. Alumni can begin utilizing the alumni login feature to access resources.
MCP – Grow & Go University, a nationwide initiative has been aimed at empowering 10th-12th grade students with the tools and resources necessary for a successful career. Since its inception in 2010 as the Midwest College Project, Inc., we have offered a unique, hybrid education model for students from all over the United States. With the support of 15 universities, 4 professional organizations, 25 high schools, and numerous corporate and civic partners, we work together to eliminate barriers and provide students with comprehensive career and college planning.
Apply to Grow & Go University Feb 1st – March 31st
Here's what MCP has been to over 1300 students
In a commitment that spans from 2010 to 2023, we stand resolute in providing unwavering support to our cherished alumni, offering comprehensive ICF career and life coaching services.
Adult MCP Alumni ages 19-30 will receive 1.1 or Group Coaching career services, international buddy engagement and corporate events via our partners at the Career Doctor LLC.
Our goal is to broaden students' aspirations and shape their professional futures. We equip high school students with ICF coaches, mentors, internships, and specialized training in professional development, communication strategy, resume writing, pitch development, and LinkedIn branding. This comprehensive support and guidance boost students' self-esteem and equip them with the knowledge and skills necessary for success.
Be More, Want More, Do More
Since 2010, this has been the mantra for 1200+ Midwest minority high school, and alumni college students looking to Grow & Go. The road hasn't been easy for students with Covid-19, limited access to resources, transportation barriers, rising crime, and gun violence, and 23 million families suffering from  job loss over the last year. 
However, the Midwest College Project has held fast to its mission to raise winners and seeks to continue by providing access to career and college planning programing, scholarships for disadvantaged youth, mental health resources, program thrust to support more women and girls, additional staff to meet our rising program demands, companion professional skill training for parents, and a new set of dedicated organizational wheels to ensure MCP students have safe, and consistent passage to meetings, activities, and tours.

Six Weeks Six Figure, Oct. 18 - Nov. 29, 2022
Donate $200 or more and receive a free "Grow & Go I Made a Difference" campaign t-shirt.
Make your gift count via corporate matching!
Making a tax-deductible, 501(c)(3), donation today? Thanks so much! Be sure you check to see if your company allows for corporate matching. This type of philanthropy is where companies financially match donations that their employees make to nonprofit organizations like the Midwest West College Project, Inc.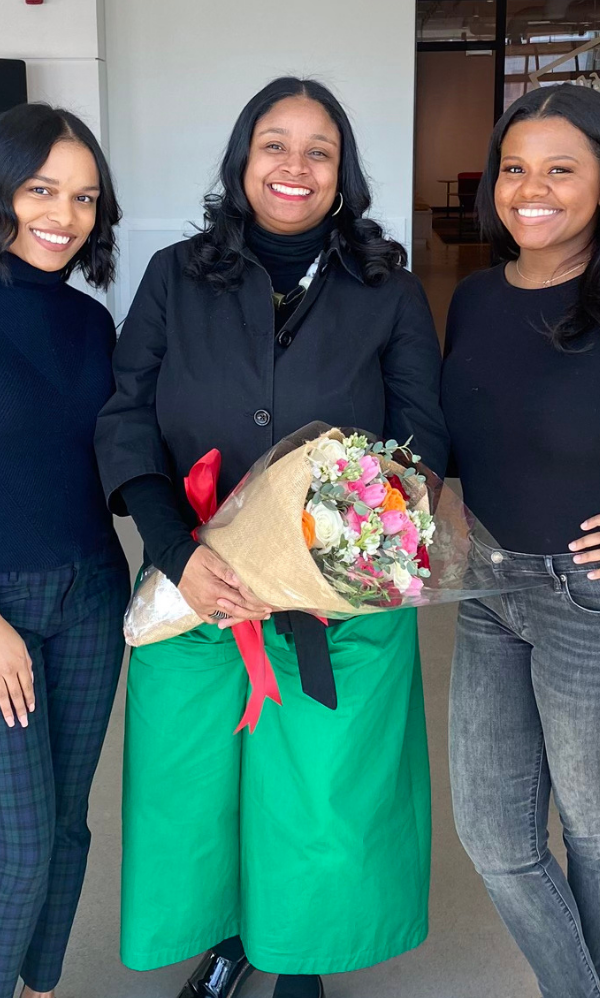 OUR MISSION
We are excited to announce Grow & Go University! Grow & Go University is a national program that creates opportunities and pathways towards successful careers for students in 10th-12th grade....
While working at a variety of the top medical schools in the country helping design their curriculum, founder Jacqueleen Crittle saw an opportunity to enlighten her daughters about the various academic settings and careers available to them while they were only 13 & 14 yrs of age. As word spread of their touring and shadowing experiences, tons of other parents started asking for support. Crittle was appalled by the level of various pain points that parents and young adults were experiencing and saw the disparity in the resources made readily available to minority students in particular. She knew there was a better way to help these individuals stay informed. Since launch in 2010 MCP has grown to support 1200+ students across the state Illinois and tons of others globally via remote access during the pandemic.
The Road to Raising A Winner via The Grow & Go Theory
I love MCP! The Grow & Go Theory is motivating and captivating. It's an experience you don't want to miss. It's a journey of sparkle and shine that puts a smile on everyone's face. It's a commitment of dedication; your word is your bond. Over the last 6 years, I have had the pleasure of witnessing my two sons actively participate in MCP's Grow & Go. From Volunteering, Networking and Internship Opportunities as well as Fundraisers, College Tours, Toastmasters and ACT Preparation Courses, etc. just to name a few. It enhances the way to go; your self-management and communication skills. Grow & Go isn't just a theory for MCP families, it's a life style. Help us continually help other students to Grow & Go.
-Jebba White
Donate To Midwest College Project